November 6, 2023 7:40 pm
Leave your thoughts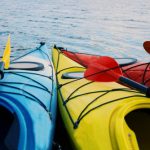 Florida, known as the Sunshine State, is a paradise for water lovers. With its miles of coastline, crystal-clear springs, and abundant lakes and rivers, there's no shortage of outdoor water activities to enjoy with family and friends. Whether you're a fan of adrenaline-pumping adventures or prefer a leisurely day on the water, Florida has something for everyone. In this blog post, we'll explore some of the best outdoor water activities to experience when visiting Florida.
Beach Days
Florida is renowned for its stunning beaches. Whether you find yourself on the Gulf Coast, the Atlantic Coast, or somewhere in between, you're never too far from a picturesque stretch of shoreline. Gather your family and friends, pack your beach essentials, and spend a relaxing day on the sandy shores. Sunbathing, swimming, beachcombing, and building sandcastles are just a few activities that make for a perfect beach day in Florida.
Snorkeling and Scuba Diving
The clear, warm waters of Florida provide an ideal environment for snorkeling and scuba diving. The Florida Keys, with its colorful coral reefs and abundant marine life, is a world-class destination for divers. The crystal-clear springs of Central Florida, such as Ichetucknee Springs and Blue Spring State Park, offer incredible underwater visibility, making them great spots for snorkeling. These activities are not only thrilling but also educational, as you'll have the opportunity to observe diverse aquatic ecosystems up close.
Kayaking and Canoeing
Exploring Florida's waterways by kayak or canoe is a fantastic way to get up close and personal with nature. Paddle through mangrove tunnels, meander along peaceful rivers, or navigate tranquil springs. The diverse landscapes of Florida offer endless opportunities for paddling adventures, whether you prefer serene flatwater or a bit of excitement in the form of rapids or coastal inlets.
Airboat Tours
Airboat tours provide a unique and thrilling way to experience Florida's diverse ecosystems. Hop on one of these iconic vessels and zip through the state's vast swamps, marshes, and wetlands. Keep an eye out for wildlife such as alligators, wading birds, and turtles. Airboat tours often come with knowledgeable guides who can share insights into the local flora and fauna, making it both an exciting and educational experience.
Jet Skiing
For an adrenaline rush on the water, consider jet skiing. Florida's countless lakes, rivers, and coastal areas are perfect for this high-speed water activity. Jet skiing is a fun way to race across the waves and enjoy the feeling of the wind in your hair. Many coastal towns and tourist destinations offer jet ski rentals, making it easy for you and your group to give it a try.
Fishing
Fishing is not just a pastime in Florida; it's a way of life. The state is known for its world-class fishing opportunities, both in freshwater and saltwater. You can cast a line from a pier, charter a boat for deep-sea fishing, or simply fish from the shoreline. Whether you're a seasoned angler or a novice, fishing in Florida offers the chance to catch a variety of species, from snook and redfish to tarpon and grouper.
Paddleboarding
Stand-up paddleboarding (SUP) has become increasingly popular in recent years, and Florida's waterways are perfect for this activity. Calm bays, inlets, and even the open ocean are great places to paddleboard. It's a fantastic way to explore the coastline, get some exercise, and enjoy a sense of tranquility on the water. Many paddleboard rental shops also offer lessons for beginners.
Tubing and Water Parks
For a more family-friendly water adventure, consider tubing down one of Florida's lazy rivers or visiting a water park. Many state parks offer tubing rentals, and you can float along the gentle currents while taking in the lush surroundings. Alternatively, Florida is home to numerous water parks, such as Orlando's famous Wet 'n Wild, where you can experience thrilling water slides and wave pools that are sure to keep everyone entertained.
Sailing
With its abundant coastline and ideal weather conditions, Florida is a sailor's dream. Whether you have sailing experience or not, you can find sailing charters and lessons to explore the open waters. From the Gulf of Mexico to the Atlantic Ocean, there are countless opportunities to enjoy the gentle sway of the boat, the sound of the waves, and the beauty of the Florida coast.
Summary
Florida's outdoor water activities offer something for every member of the family or group of friends. Whether you're looking for relaxation on the beach, excitement on an airboat, or a leisurely paddle down a spring-fed river, the Sunshine State has it all. With its warm climate and abundant natural beauty, Florida is the perfect destination for water enthusiasts seeking unforgettable experiences with loved ones. So, pack your swimsuits, grab your sunscreen, and get ready to make lasting memories on the water when you visit Florida.
Need Watercraft Rentals & Jet Ski Tours in Nokomis, FL?
Jet skiing in Sarasota County is a thrilling and unique way to explore the pristine waters and hidden gems of this coastal paradise. From the adrenaline rush of riding the waves to the opportunity to discover secluded coves and remote islands, a jet ski opens up a world of adventures. Whether you're a thrill-seeker or a nature lover, jet skiing in Sarasota County is a must-try experience that will leave you with lasting memories and a newfound appreciation for the stunning beauty of the area's waters. So if you'd like to rent a jet ski today, visit our website to reserve yours now!
Categorised in: Boat Rental, Jet Ski Rental, Kayak Rental
This post was written by admin