Watercraft Rentals & Jet Ski Tours in Nokomis, FL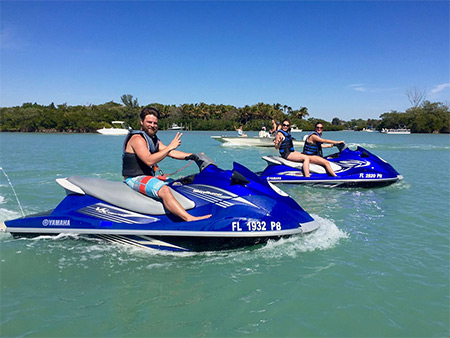 At Cool Breeze Boats & Jet Ski Rentals, we provide a wide variety of high-quality boats and jet ski tours and rentals to people in the Nokomis, Venice, Laurel, and Osprey, FL region. We pride ourselves on the affordability of our rentals and our outstanding customer service.
Get Out on the Water Today
Founded in 2005, Cool Breeze Boats & Jet Ski Rentals is one of the premier providers of jet ski and boat rentals in Nokomis, FL! With more than 10 years of experience in the area, we have developed an outstanding reputation for our high-quality customer service and low prices. We pride ourselves on providing affordable rentals for all types of boats, kayaks, jet skis and other watercraft and water sporting equipment. Our goal is to get you out on the water in an affordable, efficient way on safe, high-quality equipment so you can get out and make some lifelong memories while having fun on the ocean!


We are also the closest such operation to the Gulf of Mexico, which allows us to offer a great source of entertainment with the easiest accommodations you'll find anywhere! In addition to our boat, jet ski, watercraft and kayak rentals in Nokomis, FL, we also provide sunset tours and a variety of other services. No matter what you're looking for, you're guaranteed to have a great time out on the water when you come to us for jet ski rentals in Nokomis, FL! Here are just a few of the biggest reasons why our customers keep coming back for more:
We hold a Certificate of Excellence with TripAdvisor, which means you can trust in the quality of our services.
We commit ourselves to providing friendly, helpful customer service at all times.
We have more than 11 years of experience in providing high-quality watercraft rental services and jet ski tours.
We have extremely high-quality pieces of equipment.
We are proud members of the Osprey Nokomis Chamber of Commerce and the Venice Area Chamber of Commerce.
Contact Us
For more information about renting jet skis and other watercraft in the Venice area, contact the team at Cool Breeze Boats & Jet Ski Rentals!
Providing rentals and jet ski tours to:
Sarasota, FL
Pinecraft, FL
Southgate, FL
Manatee, FL
Charlotte, FL
Kensington Park, FL
Fruitville, FL
Sarasota Springs, FL
Desoto Springs, FL
Bee Ridge, FL
Port Charlotte, FL
Punta Gorda, FL
Englewood, FL
North Port, FL
Venice, FL
Palmetto, FL
Sun City, FL
Parrish, FL
Anna Maria Island, FL
Longboat Key, FL
Holmes Beach, FL
Bradenton Beach, FL
Bradenton, FL