Looking for a great spot for WaveRunner rentals in Nokomis, FL? Come on out to Cool Breeze Boats & Jet Ski Rentals today and check out our selection of jet skis! We're here to give you a great time out on the water zipping around on the ocean waves.
Here are just a few things you should know before renting a jet ski in Nokomis, FL:
Make sure you have training: To make sure you have a fun, safe time out on the water, it's best to get some training with jet skis ahead of time. You don't want to go out on a jet ski by yourself for the very first time—either ride with someone who has some experience, or get some training before you decide to come and rent one for yourself. The safer you are, the more fun you'll have!
Must Be Completed Before Arriving For Reservations
Take a Course Online Take Temporary Course
Start small: Again, if you do not have a lot of jet ski experience, it's important to start small. Don't go out too far into the water, don't spend too much time out at once, and don't try to reach high speeds. You'll have plenty of fun on a jet ski without having to speed all over the ocean with no boundaries!
Be prepared: Make sure you are wearing a life jacket and have filled up your jet ski with gas before you take it out on the water. The last thing you want is to get stranded! You should also avoid going out on a jet ski when the waves are particularly large, or when there is inclement weather approaching.
These are just a few tips to consider before you look for jet ski rentals in Nokomis, Venice, Laurel, or Osprey, FL. If you have further questions about renting a jet ski, kayak, or pontoon boat, we encourage you to contact us at Cool Breeze Boats & Jet Ski Rentals today by calling 941-485-3333.
Jet Ski Pricing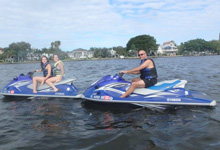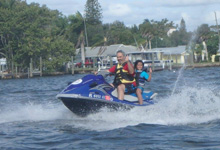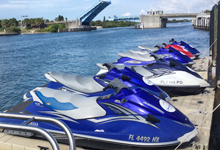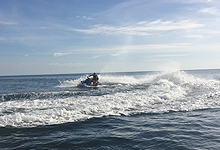 Enjoy a memorable evening while watching the sunset from a jet ski when you choose Cool Breeze Boat & Jet Ski Rentals! Get expert guidance through the local waters of the Gulf of Mexico when you enjoy our Sunset WaveRunner rentals today!
Closest jet ski rentals to the Gulf of Mexico
Best rates for jet skis in the area!
Ask about our current specials!
Affordable jet ski rentals
WaveRunner rentals (includes life jacket and fuel): $90 per hour plus tax
New Sunset WaveRunner Cruise (passengers ride for FREE): $105
1-3 people, weight limit of 400 lbs.
Basic Requirements & Info to Rent Your Jet Ski
Renters must be at least 16 years of age
Have a valid drivers license
Have a major credit card
Renters are responsible for loss or damage to equipment
A security deposit is required with a major credit card
Gasoline and oil are included
A brief orientation will be given to all renters
Reservations are recommended
Please call (941) 485-3333 or 1-866-544-BOAT (2628)
Born after January 1, 1988?
You must possess a NASBLA approved safety certificate, boating lisense or be exempt by law. Cool Breeze a Test Site for Florida Boater's Safety Temporary Certificate. This is a very condensed test that takes approximately 30minutes, costs $3.00 and is good for 1 year from the date of the test. You will find this test much shorter than the Permanent Florida Boating License.
You must have a FL Boating Certificate if you wish to drive your own jet ski alone if you were born after 1-1-88. You may drive on a jet ski with another passenger if they hold a safety certificate or if they are exempt from the law.
For additional information see the Florida Boating Regulations site.
Click here to view a short video on using our online course
Create an account and enroll yourself in the Florida Boating Safety Course from the Course Catalog
Take the course and pass the Final Exam – it's absolutely free to take the course and exam
Your permanent Boater Education ID Card will be automatically mailed to you within 3-4 weeks. If you do not receive your card after 4 weeks, contact the Florida Fish & Wildlife Conservation Commission at 850-488-5600.