In addition to our jet ski, boat and kayak rental services, we at Cool Breeze Boats & Jet Ski Rentals also provide sunset jet ski and boat tours. Our guides take you out as the sun is going down to give you a great view of the water and the surrounding area.
Here are just a few reasons why you should incorporate one of our tours into your rental in Nokomis, Venice, Laurel, or Osprey, FL:
Get an inside look: Our guides are extremely familiar with the local area and waterways, and can give you an insider's perspective on the best places to ride with your jet ski. You'll be able to learn more about specific points of interest and other tidbits along your journey!
Safe excursions: Our guides are extremely skilled with a jet ski and trained for emergency situations. You are always safe in their hands! So go out, have fun and trust that you're in the care of experts.
High-quality equipment: Whenever you rent one of our jet skis, you can trust that you are getting a safe, high-quality watercraft. We keep all of our jet skis properly maintained so they can be used safely over and over again for our guests, whether they're out on our sunset tours or renting them individually for a day or an afternoon.
These are just a few of the biggest reasons why you should consider coming out on one of our tours during your jet ski or pontoon boat rentals in Nokomis, FL. Our guides would love for you to join them on one of these fun, exhilarating excursions! For more information about our jet ski rentals or the tour times, contact Cool Breeze Boats & Jet Ski Rentals today at 941-485-3333. We look forward to you joining us, and are happy to answer any questions you have for us!
Sunset Tours Pricing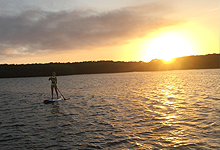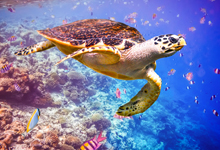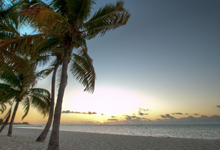 Enjoy a unique sunset tour today with Cool Breeze Boats & Jet Ski Rentals, and you'll be sure to love the stunning sunset views from the Gulf of Mexico as well as the incredible wildlife and natural sights!
ONLY $95 per jet ski
Passengers ride for FREE
FREE wetsuit rentals
Numerous can't-miss sights
Dolphins
Manatees
Giant sea turtles
Several islands and local bays