Getting out on the water in a kayak is a great way to relax while also getting some exercise. At Cool Breeze Boats & Jet Ski Rentals, we are pleased to offer kayak rentals in Nokomis, Venice, Laurel, and Osprey, FL to help you make the most out of your day at the ocean!
Here are a few tips we have to help you make the most out of your kayaking experience:
Dress for the water: Typically, when kayaking, you want to prepare for the water temperature and not the air temperature. If your kayak should tip over, you'll realize just how important this is! Ideally, you should bring along several layers of clothing that dry quickly, which you can wear as you wish. You should also bring hats, sunglasses and sunscreen, as you'll be exposed to direct sunlight. For footwear, wear either water shoes or sturdy sandals that strap on.
Choose the right kayak: There are several types of kayaks, including varying styles and lengths. You'll want to choose the right boat rental for your activities. You can also choose multi-person kayaks, which is likely the route you will want to take if you have any children coming with you on your excursion.
Learn the ropes: Kayaks are easy to operate, but knowing the ropes goes a long way. Therefore, it's important to understand what steps you must take should you run into difficulties. Have all the proper rescue gear you need. We will show you how to properly get into a kayak and make sure you have basic swimming skills.
Looking to add to your day at the gulf with a kayak excursion? Contact us today at 941-485-3333 for more information about our jet ski and kayak rentals in Nokomis, FL! We look forward to outfitting you so you can enjoy a fun and exciting day on the water.
Kayak Pricing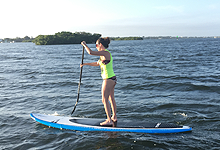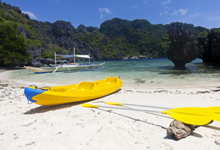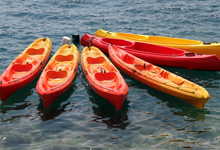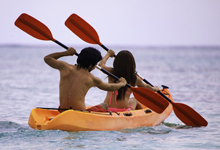 From mangrove-lined islands to beautiful local wildlife, you can be sure that when you choose Cool Breeze Boats & Jet Ski Rentals for your kayak rentals, you'll enjoy the incredible scenery of the area for a great price!
Dona Bay
Lyons Bay
Snake Island
Manatees and dolphins
Ospreys and eagles
Comprehensive kayak rentals:
Single kayak hourly rental: $25 for the 1st hour and ONLY $7.50 for each additional hour
Double kayak hourly rental: $35 for the 1st hour and ONLY $7.50 for each additional hour