October 5, 2023 8:48 pm
Leave your thoughts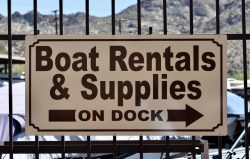 When it comes to planning a fun-filled day out on the water, renting a boat is a popular choice for many individuals and families. Renting a boat allows you to explore the open seas, enjoy water activities, and create unforgettable memories. However, with so many types of rental boats available, it can be overwhelming to determine which one is right for you. In this blog post, we will explore different types of rental boats and help you navigate through the decision-making process.
1. Pontoon Boats
Pontoon boats are a popular choice for those looking for a relaxing and leisurely boating experience. These boats are known for their stability and spaciousness, making them perfect for family outings or gatherings with friends. Pontoon boats feature a flat-bottom deck with ample seating, making them ideal for lounging, fishing, or picnicking. If you want a boat that offers comfort, versatility, and a laid-back cruising experience, a pontoon boat is a great option.
2. Bowrider Boats
Bowrider boats are a versatile choice for those who enjoy a variety of water activities. These boats are characterized by their open bow area, which provides additional seating and entertainment space. Bowriders are known for their agility and speed, making them suitable for water sports such as tubing, water skiing, and wakeboarding. If you are an adrenaline junkie or plan to engage in active water sports, a bowrider boat might be the best choice for you.
3. Fishing Boats
For fishing enthusiasts, renting a fishing boat is a must. Fishing boats are specifically designed for angling and provide the necessary equipment and features to enhance your fishing experience. These boats typically feature rod holders, built-in live wells for storing bait and fish, and fishing platforms for casting. Whether you enjoy freshwater or saltwater fishing, a rental fishing boat can provide you with the necessary tools to enjoy a successful day on the water.
4. Sailboats
If you prefer a more serene and eco-friendly boating experience, a sailboat might be the perfect choice. Renting a sailboat allows you to harness the power of the wind and navigate the waters at a more relaxed pace. Sailing provides a unique and peaceful experience, allowing you to enjoy the beauty of the open water while feeling closer to nature. However, it is important to note that operating a sailboat requires some basic sailing knowledge and experience.
5. Jet Skis
For those seeking thrill and excitement, renting a jet ski can provide an exhilarating water adventure. Jet skis offer high speeds and maneuverability, allowing you to zip across the water and feel the rush of adrenaline. These small, personal watercraft are perfect for individuals or couples looking to explore the waterways and enjoy a quick and thrilling ride. However, it is important to always prioritize safety and follow the rules and regulations of operating a jet ski.
Choosing the right rental boat depends on your desired boating experience and specific preferences. Pontoon boats offer comfort and relaxation, bowrider boats provide versatility for water sports, fishing boats cater to anglers' needs, sailboats allow for a serene and eco-friendly experience, and jet skis deliver high-speed excitement. Consider your intended activities, the number of passengers, and your familiarity with boating when making your decision. Whether you're looking for a peaceful outing or an adrenaline-inducing adventure, there is a rental boat out there that can provide you with the perfect boating experience. And to see what kinds of boats are available for you to rent with us, book online with us today!
Categorised in: Boat Rental
This post was written by admin