September 4, 2023 4:46 pm
Leave your thoughts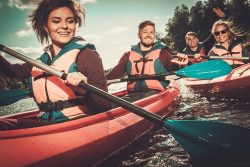 Kayaking is a thrilling and adventurous activity that allows you to explore the beauty of nature from a unique perspective. Planning a group kayaking adventure can be a fun and exciting experience, but it does require some careful planning and preparation. One crucial aspect of a successful kayaking trip is renting kayaks that are suitable for the group's needs. In this blog post, we will provide some tips to help you plan a group kayaking adventure with kayak rentals.
1. Determine the Group's Skill Level
Before renting kayaks, it's essential to consider the skill level of the group. Are they beginners or experienced kayakers? Knowing this will help you choose the right type of kayaks that provide stability and ease of maneuverability for everyone. For beginners, sit-on-top kayaks are a popular choice due to their stability and ease of use. More experienced kayakers may prefer sit-inside kayaks for better control and maneuverability in various water conditions.
2. Research Local Rental Shops
Research local rental shops that offer kayak rentals in the area where you plan to go kayaking. Look for reputable rental companies with good reviews and a variety of kayak options. Make sure they provide safety equipment such as life jackets, paddles, and safety whistles. Consider checking their rental policies, prices, and availability to ensure a smooth rental process.
3. Reserve in Advance
Once you've identified a rental shop that meets your group's needs, make sure to reserve your kayaks in advance. Popular rental shops can get booked up quickly, especially during peak seasons. By reserving in advance, you'll secure the number of kayaks you need and avoid any disappointments on the day of your adventure. Some rental shops even offer online reservation systems, making it even more convenient for you to book in advance.
4. Consider the Duration of the Trip
When renting kayaks, consider the duration of your trip. Some rental shops offer hourly, half-day, or full-day rental options. Assess the planned duration of your kayaking adventure and choose the rental package that suits your needs. Keep in mind that longer rental durations may be more cost-effective if you plan to spend a considerable amount of time on the water.
5. Check for Delivery Options
If you're planning a group kayaking adventure but don't have a way to transport all the rented kayaks to the launch point, check if the rental shop offers delivery services. Some rental companies may deliver the kayaks directly to your chosen launching site, saving you the hassle of arranging transportation for multiple kayaks.
6. Ensure Safety Measures
Safety should be a top priority when planning any outdoor adventure. Ensure that the rental shop provides all the necessary safety equipment, including life jackets that fit each participant properly. Educate your group on basic kayaking safety measures, such as staying close together, wearing appropriate clothing and footwear, and knowing how to properly use the provided safety equipment. Remember to check local regulations and weather conditions before setting out on your kayaking adventure.
7. Plan the Route and Itinerary
Take the time to plan the route and itinerary for your group kayaking adventure. Consider the skill level of the group and choose a route that suits everyone's abilities. Research the area to identify potential points of interest, scenic spots, and any safety hazards to avoid. Setting a clear itinerary will ensure that your group has a memorable and enjoyable kayaking experience.
Conclusion
Planning a group kayaking adventure with kayak rentals can be a thrilling and enjoyable experience for all participants. By considering the group's skill level, researching local rental shops, reserving in advance, considering the duration of the trip, checking for delivery options, ensuring safety measures, and planning the route and itinerary, you'll be well-prepared to embark on a successful and memorable kayaking adventure. Remember to prioritize safety, and most importantly, have fun exploring the beauty of nature from a kayak's perspective.
Got Questions? Let Us Help!
Welcome to Cool Breeze Boats & Jet Ski Rentals! Since we were established, Cool Breeze Boats & Jet Ski Rentals has been a premier provider of boats and jet skis in Nokomis, Florida! Our affordable rentals include several types of boats, kayaks, jet skis, and scheduled tours. As the closest operation to the Gulf of Mexico, we offer a great source of entertainment with the easiest accommodations! We are proud members of the Osprey Nokomis Chamber of Commerce and the Venice Area Chamber of Commerce. We proudly hold a Certificate of Excellence with TripAdvisor, so you can rest assured that our service comes with a high guarantee! Call us or stop in today to speak to our friendly staff and schedule our services.
Categorised in: Kayak Rental
This post was written by admin