September 4, 2023 4:46 pm
Leave your thoughts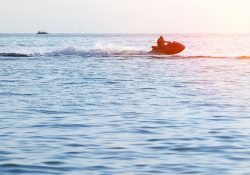 Osprey, Florida, located on the Gulf Coast, is a perfect destination for families seeking outdoor adventure and excitement. With its pristine beaches and warm waters, Osprey offers a myriad of activities for all ages. One activity that stands out for families is jet skiing. In this blog post, we will explore the family-friendly jet ski rental options available in Osprey, Florida, and the fun-filled experience they offer.
Why Choose Jet Skiing for Family Fun?
Jet skiing is an exhilarating water sport that combines speed, agility, and adventure. It provides a unique experience that the whole family can enjoy together. Whether you're gliding on the water, exploring hidden coves, or spotting dolphins and other marine life, jet skiing offers endless possibilities for fun and excitement. Additionally, jet skiing is a safe activity for children as long as proper safety precautions are followed, making it an ideal choice for families with kids of all ages.
Jet Ski Rental Options in Osprey, Florida
1. Jet Ski Tours
If you're new to jet skiing or prefer to have a guided experience, jet ski tours are a great option. Several rental companies in Osprey provide guided tours led by experienced instructors who are familiar with the local waters and attractions. These tours offer a unique blend of adventure and sightseeing, taking you to the best spots in Osprey's surrounding areas. From exploring scenic coastlines and mangrove forests to discovering hidden islands and wildlife, jet ski tours provide an unforgettable experience for the whole family.
2. Self-Guided Rentals
For those who prefer more autonomy and flexibility, self-guided jet ski rentals are available in Osprey, Florida. Rental companies offer a variety of jet skis, suited for different skill levels and group sizes. With self-guided rentals, you have the freedom to explore at your own pace and choose your own destinations. Whether you want to race across the waves, discover secluded beaches, or simply enjoy the thrill of being on the water, self-guided rentals allow you to create your own adventure and make lasting memories with your family.
Important Considerations for Family-Friendly Jet Ski Rentals
1. Safety Measures
When choosing a jet ski rental, safety should be a top priority. Look for rental companies that prioritize safety and provide thorough instructions on operating the jet ski. They should provide life jackets, explain how to use the safety equipment, and give clear guidelines for safe riding. Make sure to adhere to age restrictions and any other safety requirements to ensure a safe and enjoyable experience for everyone.
2. Instruction and Orientation
It's essential for both beginners and experienced riders to receive proper instruction and orientation before heading out on a jet ski adventure. Reputable rental companies will provide detailed instructions on how to operate the jet ski, including steering, accelerating, and braking. They should also inform you about navigational rules, potential hazards, and emergency procedures. Familiarize yourself and your family members with the operation and safety guidelines to maximize your enjoyment and minimize risks.
3. Rental Packages and Pricing
When selecting a jet ski rental, consider the available rental packages and pricing options. Some rental companies offer hourly rentals, while others provide half-day or full-day packages. Compare prices and inclusions to find a rental option that suits your budget and time frame. Don't forget to ask about any additional fees, such as fuel or damage waivers, to ensure there are no surprises when it comes time to pay.
Conclusion
Jet skiing offers an exciting and family-friendly way to explore the beautiful waters of Osprey, Florida. Whether you choose a guided tour or a self-guided rental, jet skiing provides an exhilarating experience for all ages. As you plan your family adventure, prioritize safety by choosing rental companies that prioritize safety measures, provide thorough instructions, and ensure proper equipment is provided. With the right preparations and precautions, jet skiing in Osprey, Florida, will create lasting memories for the whole family, making your vacation an unforgettable one.
Got Questions? Let Us Help!
Welcome to Cool Breeze Boats & Jet Ski Rentals! Since we were established, Cool Breeze Boats & Jet Ski Rentals has been a premier provider of boats and jet skis in Nokomis, Florida! Our affordable rentals include several types of boats, kayaks, jet skis, and scheduled tours. As the closest operation to the Gulf of Mexico, we offer a great source of entertainment with the easiest accommodations! We are proud members of the Osprey Nokomis Chamber of Commerce and the Venice Area Chamber of Commerce. We proudly hold a Certificate of Excellence with TripAdvisor, so you can rest assured that our service comes with a high guarantee! Call us or stop in today to speak to our friendly staff and schedule our services.
Categorised in: Jet Ski Rental
This post was written by admin